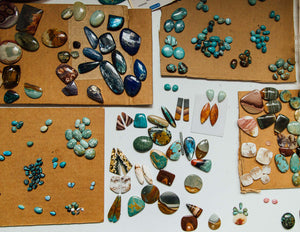 This Listing is for a $50 non refundable custom order deposit, please read the Custom Order Agreement below:

Remainder of balance is due immediately upon completion of the project. All Payments are due immediately.

Please allow 3-9 weeks for fabrication. This allows time to source stones, order material, design the piece, and construct the design.

Please provide the best ways to keep in contact (phone number, email address, etc). I often keep in touch with customers during the process for confirmation on changes, ideas, or precise details. Please provide your preferred contact information.

When the item is completed there are no adjustments, resizing, or returns.

Once a project is discussed and agreed upon an itemized quote will be calculated and provided to the customer. This is subject to change based on price changes in stones, metal, or additional changes or details made throughout the project. Custom orders are also subject to added fees for listings and time spent communicating.

Custom order quotes will include:
•Base Price (metal+stones+other material+time)
•Additions (personalizations, stamping, gift packaging, etc)
•Custom Order Fees (listing fees, communication time, etc)
•$50 Deposit will go towards the Subtotal

Custom Rings will be sized to the specifications the customer provides. Wide bands will be sized a half size up from the customers standard size. Before setting the stone a picture will be sent of the ring on a sizing mandrel for confirmation. Once confirmed the stones will be set and no further sizing is available. No resizing once stone is set. No returns.

By purchasing this listing you are agreeing to this non refundable deposit and the terms to this custom order agreement.
Please note that all of my pieces are handmade and each piece is unique, even one earring to it's pair. This simply means that all of my creations are subject to small imperfections and variations. This makes them interesting, beautiful, and unique. All my photos are taken in natural light without editing to show the true color and detail, color may vary slightly from one computer screen to the next. If you should have any questions, issues or concerns about your jewelry please contact me before leaving a review. I want to make my customers happy.